5th National Conference – 2014
Organised by Ārsha Vidyā Vikās Kendra
Convenor – Swāmini Ātmaprajnānanda Saraswati
on ''Dimensions of Indian Philosophy, Literature and Culture'
Chief Guest          – Dr. J P Das (Inaugural Session)
Keynote Address – Prof. Gaya Charan Tripathi
Chairperson         – Prof. Godabarisha Mishra
Chief Guest          – Dr. Saroj Kumar Rajguru (Valedictory Session)
The 5th National Conference of the Ārsha Vidya Vikas Kendra, Bhubaneswar was held on 7th, 8th and 9th February, 2014 at the Panthanivas, Lewis Road, Bhubaneswar.
Delegates
Institution
Papers
1
Prof. Gaya Charan Tripathy
Bhogilal Institute,
Hoshiarpur
Recent Researches in Orissan History.
2
Prof. Godabarisha Mishra
University of Madras
Speaking the Unspeakable
3
Prof. Ganesh U. Thite
BORI, Pune
Values in Sanskrit Literature & Their Relevance Today
4
Dr.Harmohan Mishra
S.B.Women's College, Cuttack
Vedanta as gleaned through the Stotras of Jagannatha Pandita.
5
Dr. Yashodhara Kar
Kurukshetra University
Concept of 'Adhyaropa' in 'Vakyapdiyam' of Bhartrhari
6
Dr. Bhaskar Nath Bhattacharyya
Rabindra Bharati University, Kolkata
Humanity of Seven Vedic Dogmas
1st Day: 7th February, 2014
The Inaugural Session started with Vedic Chanting by Dr. Bhaskar Nath Bhattacharyya.
Professor G.C. Tripathi, the renowned indologist and historian, delivered the keynote address. In his keynote, Professor Tripathi emphasized how different schools of Indian Philosophy, either orthodox or heterodox, have emanated from the Vedas.
Chairperson, Professor Godavarisha Mishra, lauded the continuous research and teaching activities of the Kendra under the initiative of Swāmini, and hoped that such conferences will be continued to be held in future to create awareness about our rich heritage.
Eminent poet Dr. Jagannath Prasad Das, presided as the Chief Guest. Dr. Das in his address, encouraged questions on the 'Sāstra' that is being accepted as unquestionable by the traditional 'Sāstris' and 'Pundits'.
Swāmini in her address spoke on 'Sāstra' as a valid means of knowledge (Pramāna) and said how the equation between the individual 'jiva' and 'Isvara' as presented in the Upanishads cannot be improved upon.
On its tenth anniversary, Ārsha Vidyā Vikās Kendra felicitated eminent Sanskrit Scholar and Poet Prof. Prafulla Kumar Mishra, currently Director, National Mission for Manuscripts, New Delhi with the title of 'Ārsha Vidyā Vācaspati', with a shawl and 'Mānapatra'. The 'Mānapatra' was read out by the Chairperson. Professor PK Mishra gave the acceptance speech thanking the Ārsha Vidyā Vikās Kendra for this honour. Ārsha Vidya Vikas Kendra has felicitated 36 Sanskrit/Indological scholars until date.
A Book 'Om: The Sound Symbol' authored by Swāmini Ātmaprajnānanda Saraswati' was released on the occasion, by the Chief guest.
The post-lunch session was chaired by Professor G. Mishra and two papers were presented by Professor Ganesh U Thite and Dr. Yashodhara Kar respectively. A very scholarly paper on 'Humanity of Seven Vedic Dogmas' was presented by Professor Bhaskar Nath Bhattacharyya from Rabindra Bharati University, Kolkota.
2nd Day: 8th February, 2014
The speaker of morning session of the second day was Professor GC Tripathi who deliberated on "The Recent Researches in Orissan History." He gave a panoramic view of the work already done and to be done in little known areas of History of Orissa. There were many interventions which Professor Tripathi responded.
There was a 'Poetry Reading" session in the afternoon, wherein Padma Bhushan Sri Ramakanta Rath, Saraswati Sammana recepient Dr.  J P Das, and Padma Vibhshan Dr. Sitakant Mahapatra read portions of their Poems. All three of them are Sahitya Akademi Awardees.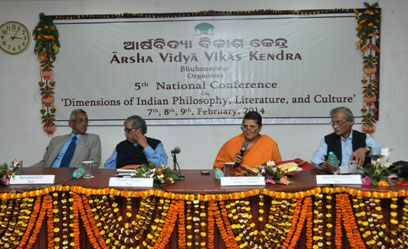 3rd Day: 9th February, 2014
On the third day, Prof. G. Mishra presented a paper on "Speaking the Unspeakable" highlighting the nature and scope of Vedanta as a means to Self Knowledge. This was followed by Dr. Haramohan Mishra who spoke on "Vedanta as gleaned through the stotras of Jagannatha Pandita".
The afternoon session had Panel Discussion on 'Dharma – Implications and Imperatives, wherein five academicians participated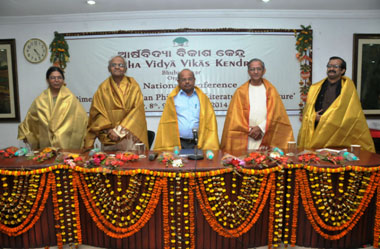 The conference concluded with 'Svastipātha'.
Special Guests included retired bureaucrats, artists, poets, writers, academicians, educationists, and intellectuals.

Dr. J P Das, Chief Guest,
Inaugural Session

Prof. G C Tripathi,
Keynote Speaker

Prof. Godabarisha Mishra,
Chairperson

Prof. Ganesh, U. Thite,
Delegate

Dr. Harmohan Mishra,
Delegate

Dr. Yashodhara Kar,
Delegate

Dr. Bhaskar Nath
Bhattacharyya, Delegate

Dr. Saroj Kumar Rajguru,
Chief Guest, Valedictory
Session

Swamini Atmaprajnananda
Saraswati, Convenor
National Conference